Help Desk Tricks To Impress Your Customers And Make Them Stick With You
Like it or not, your help desk is the face of your business—one that performs many critical company functions. Among other things, your help desk facilitates communications between you and your customers, building customer loyalty and increasing customer retention—things that can help you survive long-term.
But to do all that your service agents need to go above and beyond. In other words, they need to provide more than technical support. To do that, you need to have service desk agents that:
Have great interpersonal skills
Use in-place processes quickly and efficiently
Are knowledgeable/skilled in solving technical problems
Know how to handle difficult customer calls
Can diagnose and dispatch issues to the right person, if necessary
In short, your service agents must be able to deliver an excellent help desk and customer service experience. That's not easy to do. Below are help desk improvement ideas that will make customers say WOW:
Handle service requests promptly
First impressions count, so starting on the right note is critical to creating a good feeling. Polite acknowledgment of the caller's request is a priority. It sets the tone for the conversation and makes a massive difference in customer satisfaction. Also, keep customers in the loop the whole way.
Be transparent in all activities
Customers don't like to feel as if your agent is reading them a script. Nor do they like being funneled through a set course of action. Have agents explain what they're doing and why. Keeping customers informed helps them feel involved in resolving their issue.
Write detailed support ticket notes
Crafting detailed and comprehensive ticket notes is critical. The information will be useful if your service agent or a colleague refer back to them later on. Taking detailed notes also helps if you have a similar case in the future. Also, make sure your agents check previous support tickets before talking to customers. The customer may have had the same issue before. Revisiting the notes can speed resolution.
Delegate and escalate
You want to resolve customer issues quickly and efficiently. So, have agents recruit help from other agents when struggling with a problem. If that doesn't work, have them forward it to someone that can. In other words, use your whole team as a resource to speed resolution.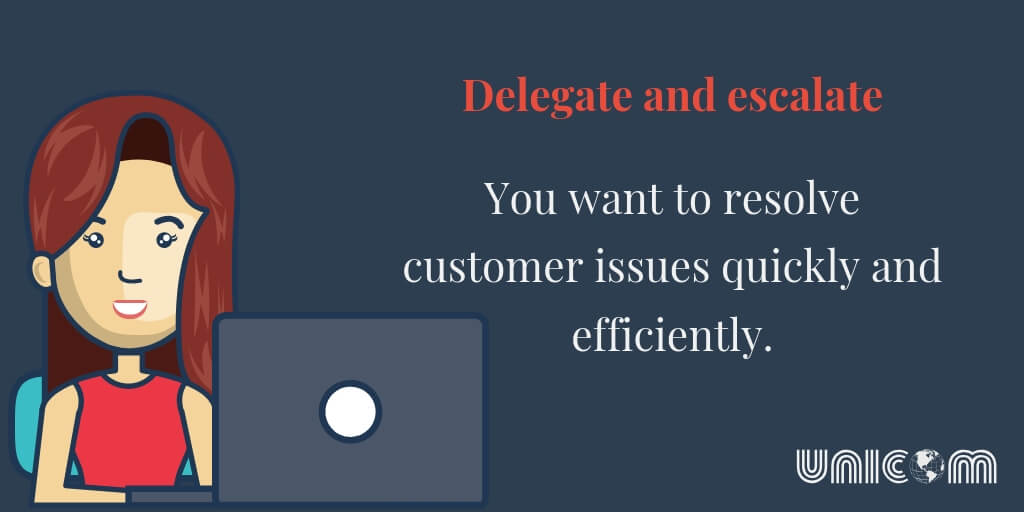 Determine help desk priorities
Service desk issues can range from simple delivery to severe problems with a product. More experienced agents should know when issues require more firepower to resolve the issue and respond accordingly. Also, don't let less experienced handle issues requiring in-depth technical knowledge until they are ready to do so. Their failure to handle an issue only increases customer dissatisfaction.
Define help desk goals
Defining service goals and resolution procedures at the outset. That boosts help desk performance. Use metrics, ticket times, response times, and closed tickets as a barometer for the effectiveness of help desk service activities. They can also tell you if agents are adhering to your policies and achieving their goals. That also shows you if your help desk is reaching its goals.
Have agents take ownership
Service agents need to take ownership of each case and assure the customer that they will resolve the issue as quickly as possible. That assures customers that the agent and your company take service seriously and care about addressing that particular issue. That's especially helpful when things go wrong for callers.
Train. Train
Agents can never have too much training. So, make sure you train your agents and that they're updated on the latest technologies and new services, and have the most recent technical certifications. Doing so boosts the agent's confidence and the customer's confidence in him or her.
Your help desk is the face of your business. It can make or mar your business. If it doesn't operate efficiently and provide superior customer service, it could cost you, customers or clients.
Help desks that work, on the other hand, deliver exceptional help desk service, boosting customers loyalty and long-term survival. If your helpdesk isn't doing that, maybe it's time to outsource the activity.
Look at our video!