When you want instant relief from a splitting headache at 3 a.m., for example, who do you call? You call your doctor. When the phone connects, you want to speak directly to him or her.
When you have a question about a retailer's return policy? Who do you call? You call the store. When the phone connects, you want to speak to a customer service person.
When people call businesses or medical offices, they want to talk to a live person, not auto-attendants. The data is clear on that topic. When clients, customers, and patients get voicemail or an auto-attendant, they often get frustrated and may hang up.
People like talking to other people. But if your business lacks the workforce to handle after-hour calls, what do you do? The answer is simple: You hire an answering service with live representatives. Businesses that use an answering service outperform those that aren't by wide margins.
In this article, we explore all of the aspects of what is an answering service. Let's get started!
What does an answering service do?
Answering services replace or support traditional, in-house receptionists or call centers. These answering service companies process phone calls and customer inquiries during busy times or when businesses close.
They also set appointments, send emails and faxes, manage sophisticated help desk issues, and a whole lot more. In doing so, they provide support that can help generate repeat business and boost profitability. This support includes:
Enhancing customer service
Managing call overflow efficiently
Handling routine tasks when overwhelmed
Providing marketing and sales support
Cutting office expenses
With benefits like these, it's no wonder more, and more companies hire call answering services when the situation requires it.
Waging War on Voicemail and Auto-attendants
People hate voicemail and auto-attendants. They frustrate them and make them angry. Sure, businesses save money with, but at what cost to their business? As the face of your company, these tools don't do much to promote good customer relations:
In fact, in some cases they do the opposite, as the statistics below show:
67% of customers have hung up the phone out of frustration when they could not talk to a real person. (Source: American Express Survey, 2011)
75% of customers believe it takes too long to reach a live person. This approach often includes phone trees or automated systems. (Source: Harris Interactive)
72% of callers who reach an automated answering will hang up (and potentially call a competitor) without leaving a message. (Source: Consumer Reports)
Customers form an impression of a business in the first 7 seconds of contact. (Source: Forbes)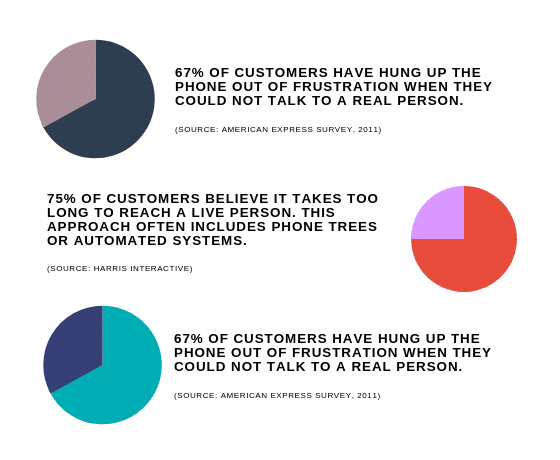 Sometimes, people hang up their phones before they even make an initial selection from the voicemail prompts. That can cost companies business.
What Industries Use an Answering Service?
Businesses of all types and sizes all use answering services—from small businesses with a handful of employees to Fortune 500 companies with hundreds of workers. Even one-person offices have call answering.
These businesses fall into six categories: medical, professional organizations, service industry, property management, religious affiliations, and government agencies.
Some examples of organizations that use answering services include:
General physicians, dentists, and veterinarians
Assisted living facilities and medical equipment, providers
Attorneys, credit unions, and fitness/exercise businesses
Retailers, product manufacturers, realtors, and event planners
Auto repair providers, plumbers, tow companies and carpenters
Electricians, janitorial services, pest control, and septic service providers
Apartment, condominium, and parking lot management services
Churches, ministries, and other religious-based organizations
Federal, municipal, and local government representatives
Call answering services help these organizations meet customer demands and maintain the brand's professional images. Plus, they enjoy all the benefits answering services with a live representative offer.
Determining Levels of Service
The key to making call answering work is finding the right level of service for your company. It's a major decision you'll need to make before hiring an answering service.
When reviewing answering service companies, find one that provides customized plans. That way you can tailor your plan specific to your needs.
Some considerations when determining your service level include:
Filtering of specific calls
There may be times when you only want to answer specific calls or calls from certain people. Call filtering lets you take just the calls you want to take while the answering service handles the rest.
After-hours support
Many companies process day-time calls themselves but need support with after-hours calls. When people call these types of businesses, they generally want to speak to a person—especially if it's an emergency.
Call overflow management
Sometimes businesses get call surges. They may be seasonal or the result of a hard-hitting marketing campaign. Whatever the cause, you need someone to answer promptly. Otherwise, you'll lose the business. Call overflow forwards calls your people can't take to an answering service with a live representative.
24-hour support
This service is similar to after-hours services. Some business needs help not just when the receptionist is out, or the office is closed, but on weekends and holidays all year round. With 24-hour support, you cover all your customers calling, regardless of the day or hour.
Call recording
A versatile business tool, this service packs a punch. Do it correctly, and you can take customer service to the next level. Call recording can help you increase productivity, efficiency, and profitability. Take advantage of it when you can.
These five services are just some of the options you'll have to consider when developing a customized call answering plan.
Specific Answering Service Solutions
Another consideration when hiring a call answering service is which level of service is right for you. One way to decide is to determine what tasks you want the answering service to handle and which you want to keep in-house.
Below are common tasks that answering services typically do:
Set appointments
Schedule management meetings
Manage emergency calls
Take messages
Support sales and marketing
Provide customer service
Process outbound marketing campaigns
Take orders
Support products and services
Having a call answering service handle these tasks boosts employee productivity dramatically. What's more, it frees employees to focus on more critical tasks, like helping customers or clients with issues or questions.
What should I Pay?
Our blog post on answering service pricing, we go into more detail on this subject. Generally speaking, you should see a range between $0.10 per minute or call, up to $1.00+ for specialized services.
But be careful with pricing. Some companies opt for the cheapest service possible. Others overpay. Both approaches hurt the company.
So, do your homework carefully when it comes to pricing. Take the time to understand what you're paying for and what you're not getting in your call answering plan. Review it periodically to make sure it still works for you.
Integrating with the Call Center
A critical step in working with an answering service is integrating your company with its call center. This step is often a challenge. So, make sure you review answering service companies carefully before deciding on a candidate.
Look for one, like Unicom, that focuses on thoroughly understanding your processes first. Then takes the time to integrate its call center seamlessly with your business.
In other words, you want customers, patients, and clients to feel like they're talking with you, not an answering service.
Now you know what is an answering service. The next step is to find an answering service company that provides that kind of attention to detail, and you'll find a partner that can help you grow your company—one that you can depend on when the situation calls for it.